PK #6: Everything ready to go
27 Mar
Posted by: Oliver in: DIY and tinkering
[See all Project Knees – Bike Electrification Project posts]
The electronics are all assembled and working. The front panel has a push switch, an LED (lit up, to prove it's working), and on the right the connector to join up with the throttle and motor. Behind it are the three batteries and the board with a fuse, terminal connectors, a relay and the actual ebike controller.
And the box, complete with strap (the webbing was expertly sewn by my wife this morning), sitting as it will on the bike. I like to think it has a rather "large 70s TV" aesthetic.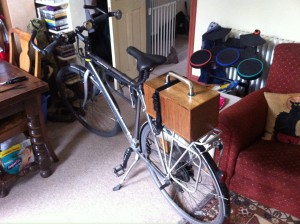 I'm just waiting for the varnish to cure properly on the box – it's dry, but you can feel it's still slightly soft. It's killing me not being able to take it out for a test run, but there you go. Hopefully just another week.
(The eagle eyed may notice I've not put the motor on the front hub yet – I'm leaving that until the last minute so as to get some proper "before" timings of my journey before I put any ebike kit on.)